| | |
| --- | --- |
| TFK Tromsøprøven 16.03.13 | HH 16.03.13 |
Velkommen til TFK's "Live Blogg" som vi vil oppdaterer med jevne mellomrom gjennom dagen!
16:10 Partiene begynner å komme inn og vi begynner å oppsumere med dagens premieringer:
VK
1.pr VK m/CK ES Dulles A Max e/f Ole Klingan
1.pr VK m/CK ES Slottviddas Ramses e/f Håvard Dekkerhus
1.pr VK m/CK P Pimens Aron e/f Terje Steinsund
1.pr VK P Dansk Dynasty Elka e/f Geir Roger Hagenes
2.pr VK KV Sognexpressens Dnt Kira e/f Øystein Dahl
2.pr VK P Fugledes Petite e/f Vanja Andersen
2.pr VK m/CK IS G-Tjikkom Av Miessevarri e/f Ronny Jørgensen
2.pr VK P Pellarskogens Kon e/f Ole Ingebrigtsen
3.pr VK P Joker e/f Ronny Hartviksen
3.pr VK P Jimsrypas Jeger e/f Jim Theodorsen
3.pr VK ES Dulles A El Zorro e/f Stein Arne Paulsen
3.pr VK GS Magda e/f Edgar Henriksen
4.pr VK IS Hadseløyas Slisch e/f Royar Andre
4.pr VK ES Ringvassøyas Samira e/f Stein Martinsen
5.pr VK P Heinådalsens Ask e/f Jon Dagfinn Aspenes
6.pr VK GS Bjørklitoppens Madonna f Mads Hansen
AK
2.pr AK P Biru Av Norehund e/f Nils Ludviksen
3.pr AK GS Langsundets Fløya e/f Lars-Thomas Nordkild
3.pr AK IS Jalgesvaddas Illu e/f Paul Samuelsen
UK
1.pr UK P Barentsviddas Nansen e/f Geir B Larsen
1.pr UK P Skipsfjordhønas Bolt f Petter Ditlefsen
1.pr UK GS Junkerens Raisa e/f Elin Nesse
2.pr UK IS Lill FjallensPentyl e/f Geir Pedersen
2.pr UK SV Bengel e/f Leif Arne Zakariassen
2.pr UK KV Doktordalens Ask e Jan Tore Johansen
2.pr UK P Ørntuas H Mille e/f Lise Nordås
3.pr UK SV Gallokåsen's L-Frøya e/f Willy Wikbo
3.pr UK ES Snyfjellets Lotta f Øyvind Wilhelmsen
3.pr UK IS Hamperokkens Emma e/f Grethe Halsteinsen
3.pr UK ES Finnvellens Tundra e/f Gunnar Liljegren
3.pr UK GS Itzas Svaipa e/f Anne Maj Krogh
Referat fra dagen finner dere ved å trykke Les Mer
Bilde fra oppropet lørdag.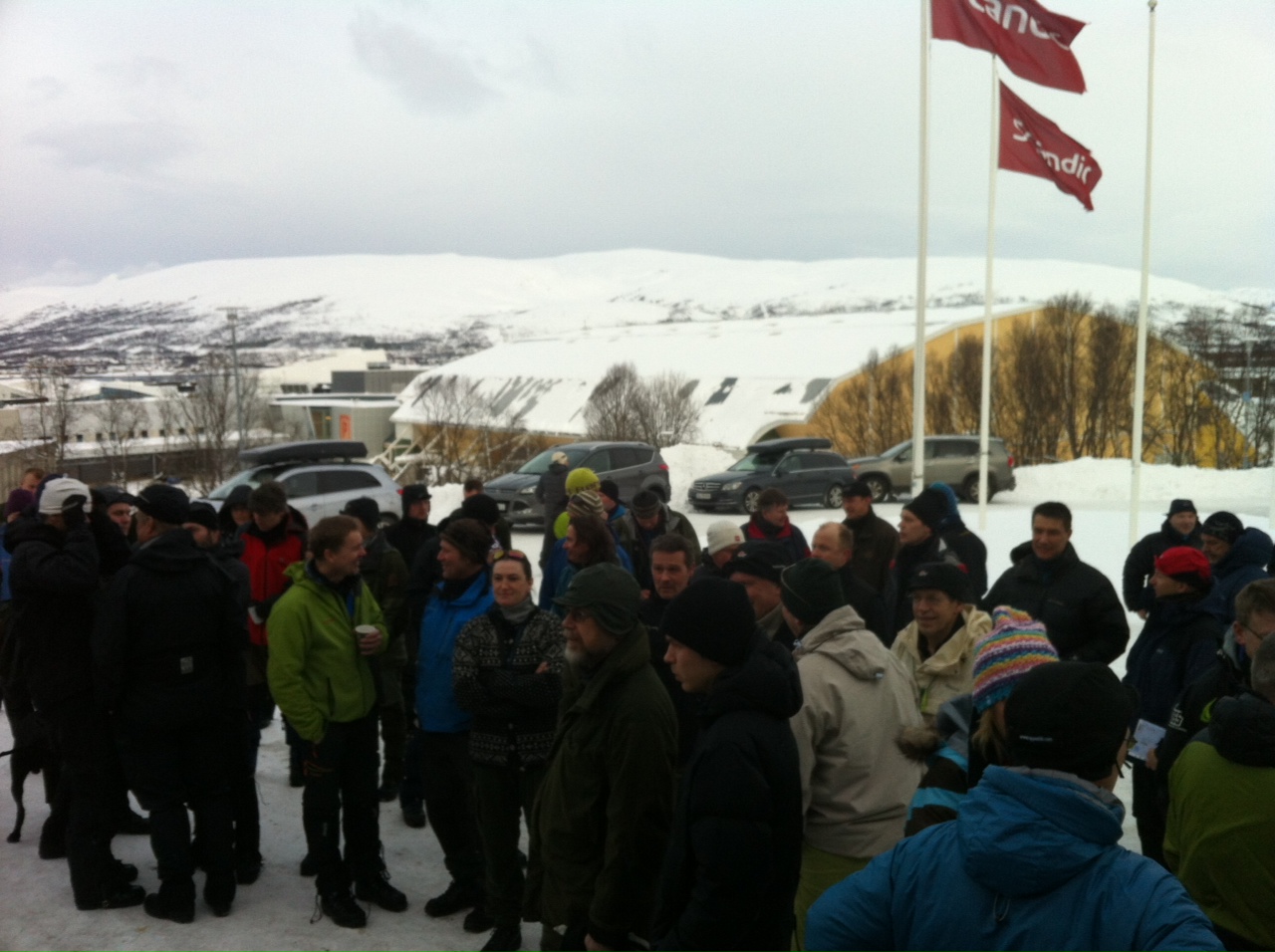 Nordkjosdalen VK:
Slettfjell VK:
10.28: Rapporteres om dyp snø, tungt føre og fint vær. Etter to runder er alle med fortsatt, ikke observert fugl.
10.52: P Aron FMR.
11.00: FUR P:Joker
13.00: P Petite FMR.
13.10: Rangering etter 1. runde:Aron FMR, Joker FUR, Petite FMR, Storm ftaking, Mikkel, Riddu, Nobel, Tig, Piero, Xavi, Larson, Tya, Rago m tap, Tøtta tap
Tromvik VK:
10.10: B Bess FMR, men rampet seg ut etterpå.
10.30: tre slipp. Rangering: Magda, Funny, Point.
10.49: ES Max, FMR.
11.20: Pipa mot Kon- Kon FUR, over Pipa som utgår. Rangering: Max FMR, Kon FUR,Magda, Funny, Point, Samira.
12.50: Rangering etter 1.runde: Max, Kon, Magda, Funny,Texi, Sway, kejser ,Point og Samira
13.00: Max mot Funny- Max FUR
14.00 Magda mot Samira. begge et FUR og et FMR, sjangs og slått.deretter Kon mot Texi uten fugl i slipp. Ett slipp igjen. Max, Kon, Magda, Samira alle m fugl, Deretter Texi, Point og Funny.
VK14.20 1.VK Max, 2VK Kon, 3.VK Magda, 4 VK Samira. Videre på søk er Texi,Point, Sway og Funny. Gratulere alle premierte
Larseng VK:
9.48: 1. slipp: Nemi over Zorro
10.08: 2.slipp: Enya over Ask
10.33: 3. slipp: Tjikkom FMR, over Pelle
10.44: 4.slipp: Eira ute, Aiko settes på, Aiko over Tuva, begge m sjangs
11.20: Ramses over Madonna.
11.50: Tutta over Slitch, begge med sjangs.
12.50: siste slipp i første runde, Assa over Messi.
13.10: Zorro FMR, Ask FMR+ TS, Zorro over
13.50: Tjikkom FUR mot Tuva, som er ferdig for i dag.
14.30:Ramses mot Madonna, Ramses FMR, FUR- Madonna FMR, tap på søk
Grønnlifjellet UK/AK:
10.30: Ask og Lotta begge to fuglearbeid, iallefalle ett av disse med reis.
13.10: SV Frøya 3.UK
13.40: ES Lotta avsluttes med 3.UK.
Holmevannet UK/AK:
12.40: P Nansen FMR, P BOLT FUR, Det meldes om føre som veksler fra dyp snø til skare.
13.40: IS Emma avsluttes med 3.UK. Gratulere!
Gamnes UK/AK:
9.33: fugl ved start av første slipp, ingen utnytter sjangsen.
10.25: IS Red Bull ute
10.54: etter fem slipp er det en hund, P Biru som har FMR
11.20: Første premie kom rakskt! GS Fløya har fått 3.AK- gratulere!
12.30 IS Lill FjallensPentyl fikk dagens andre premei, en 2.UK Gratulere!
12.50 ES Tundra avsluttet med 3.uk. Gratulere!
13.00 P Biru avsluttes med 2.AK Gratulere!
13.50 GS Svaipa avsluttes med 3.Uk rett utenfor stuedøra. Gratulere!
14.30 Partiet er avsluttet med en 3.AK til IS Illu. Gratulere!
Skulsfjorden UK/AK:
10.15: Flott vær og fint føre. Ingen fugl etter fire slipp.
12.20: Pause i partiet. De har sett endel fugl, men ingen av hundene har lyktes ennå.