| | |
| --- | --- |
| Vesterålsprøven 16 - 17. februar 2013 | OI 17.01.13 |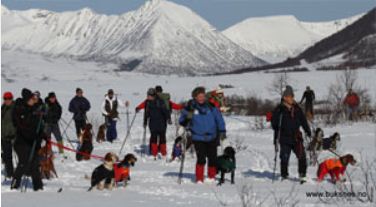 Vesterålsprøven er over og arrangøren oppsumerer prøvens første dag slik:
Dagen i dag har vært preget av lavt skydekke, varierende med ryper i terrengene og til dels lett fugl. Liten premieringsgrad, men desto mer gleder vi oss over de som har taklet forhold og fugl, og går premierende hjem.
Premieliste lørdag finnes HER
Prøvens andre dag oppsumeres slik:
Finalen gikk i terrenget Skogvoll nord. Ronny Hartviksen og Per Erling Høvde sto for god dømming. Det var godt med fugl og tungt føre, lette snebyger først på dagen, men etter hvert klarnet det opp. Rypene var relativt medgjørlige. Kun to hunder som ikke kom i fugl. 1. og 2. VK hadde to komplette fugelarbeid med reis, begge fikk CK. Det ble totalt fire premieringer og en flott dag i marka. Ett kvalitetspart hadde ingen premieringe. Det var fugl nok, men den var lett og hundene greide ikke å takle dette. I kvalitetspartiene søndag ble det totalt sett oppnådd tre premie.

Premieliste søndag finnes HER
Årets prøve arrangeres fra Nordmela på Andøya 16.-17. februar og omfatter klassene UK/AK/ 2 dag VK.
HVFK inviterer til en sosial og hyggelig prøve ute på Andøya med Nordmela Samfunnshus som hovedkvarter. Etter gode tilbakemeldinger fra fjorårets prøve håper vi å gjenta suksessen i år.
Påmeldingsfrist er mandag 11. februar.
Fortløpende informasjon om prøven finner du HER
Veibeskrivelse: http://kart.gulesider.no/m/naNiA
Startkontingent pr. start:
• UK/AK kr. 400.00
• VK kr. 450.00
Påmeldingsadresse
Harstad & Vesterålen Fuglehundklubb
Boks 631
9486 Harstad
Betaling pr. nettbank til kto: 4730.05.25950
(Påfør kun reg.nr, klasse, dag/er, og eventuell annen fører enn betaler).
Opprop hver dag kl. 0800 utenfor hovedkvarteret.
Innkvartering Samfunnshuset Nordmela.
Ta med sovepose/feltseng samt hundebur og overnatt på huset for 200kr hele helga.. Det er også mulighet for plassering av bobil med strømtilkobling 100 kr for helga. Frokost må man sørge for selv men kjøkkenet kan brukes på plassen.
Andre overnattingsmuligheter: http://www.marmelkroken.no/?page_id=7
Eller ring Seppola 957 65 739 for overnatting her.
Jæger middag Lørdagen for 200kr.
• Jegermiddag lørdag, kl. 19:30.
• Hjemmelaget lapskaus inkl kaffe og vafler
• Drikke til maten kan kjøpes for en hyggelig pris.
Spørsmål om prøven – innkvartering osv. ring prøveleder Royer Andre Larsen, tlf 905 94 367

Vel møtt til Vesterålsprøven 2013