| | |
| --- | --- |
| JAKTHELG FOR UNGDOM Helga 11.02.11 - 13.02.11 | GHH/OI 09.02.11 |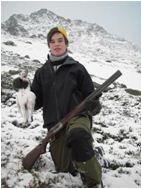 Helga 11-13. februar inviterer Tromsø Jæger og Fiskeforening ungdom i alderen 14-18 år på rypejakthelg på Jøvikstua. TJFFs styre har gitt oss dispensasjon fra jaktforbudet til å felle inntil 6. ryper. Vi stiller med voksne, erfarne tilsynsjegere med hund. Deltakerbegrensning er satt på 6 ungdommer så her er det først til mølla.
Fortsatt to ledige plasser, siste påmeldingsfrist 10. februar. Informasjon og påmeldinger rettes til Øystein Overrein tlf. 47242998 eller e-post


Deltakere bør helst ha tatt jegerprøven og ha med eget våpen, men jegerprøve er ikke noe krav for de som er under 16 år. Vi bor godt på Jøvikstua. TJFF bekoster middag to kvelder og skyss, tørrmat tar hver enkelt med i ryggsekken. Det kan også bli plass for noe mat i pulker som hundene trekker.
Vi går samlet på ski over fjellet fra Skarsfjorden. Oppstart fra Skarsfjorden fredag 11te kl 1700. Marsjlengde 8 km en vei i lett terreng. Deltakeravgift kr. 200,00.
Ved påmelding oppgi navn, adresse, e-postadresse, telefonnr.,alder og om du har eget våpen.
Dette kan bli skikkelig artig!